Augustów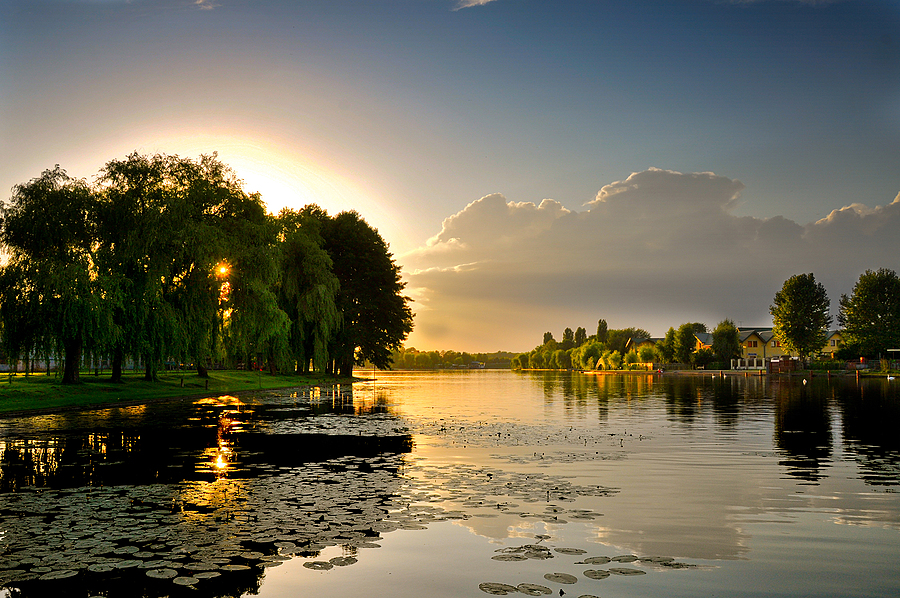 Augustów is a city in north-eastern Poland, which lies on the Netta River and the Augustów Canal. In 1970, Augustów became officially recognized as a health and relaxation resort. In 1973, surrounding settlements were named a part of it, forming a popular resort town.
The town, although small, has many attractions for the visitors. The Oficerski Yacht Club Hotel, built in the 1930s, is an army yacht club that has been restored and converted into a resort.[5] It is located on the edge of one of many lakes in the region. Pope John Paul II has a memorial chair from the first and last time he visited the town right outside the club. Boat tours are also popular and the old town square still has its original cobblestone streets.
For more information about Augustów visit [1] or [2].
Augustów Canal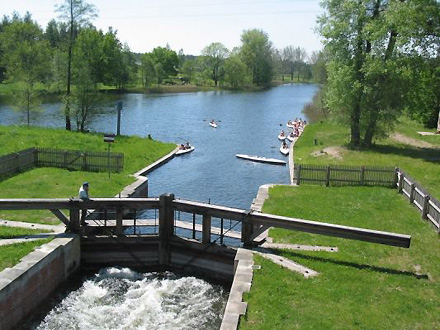 Augustów Canal is a cross-border canal built in the 19th century in the present-day Podlaskie Voivodeship of northeastern Poland and the Grodno Region of north-western Belarus (then the Augustów Voivodeship of the Kingdom of Poland). From the time it was first built, the canal was described by experts as a technological marvel, with numerous sluices contributing to its aesthetic appeal.
The canal is currently a conservation protection zone proposed by Poland and Belarus for inscription onto the World Heritage List of UNESCO. This site was added to the UNESCO World Heritage Tentative List on January 30, 2004, in the Cultural category. The canal was also named one of Poland's official national Historic Monuments, as designated May 16, 2007. Its listing is maintained by the National Heritage Board of Poland.
Białystok
Białystok is the largest city in northeastern Poland and the capital of the Podlaskie Voivodeship.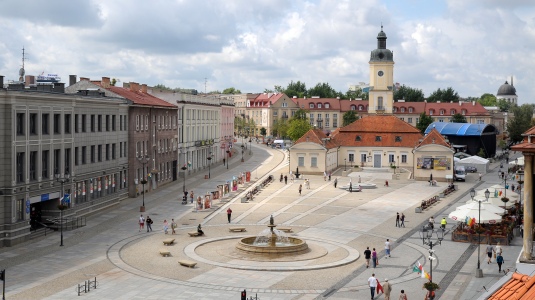 The first settlers arrived in the 14th century. A town grew up and received its municipal charter in 1692. Białystok has traditionally been one of the leading centers of academic, cultural, and artistic life in Podlaskie and the most important economic center in northeastern Poland. In the nineteenth century Białystok was an important center for light industry, which was the reason for the substantial growth of the city's population. But after the fall of communism in 1989 many of these factories faced severe problems and subsequently closed down. Through the infusion of EU investment funds, the city continues to work to reshape itself into a modern metropolis.
Over the centuries Białystok has produced a number of people who have provided unique contributions to the fields of science, language, politics, religion, sports, visual arts and performing arts. This environment was created in the mid-eighteenth century by the patronage of Jan Klemens Branicki for the arts and sciences. These include Ryszard Kaczorowski, the last émigré President of the Republic of Poland; L. L. Zamenhof, the creator of Esperanto; and Albert Sabin, the co-developer of the polio vaccine.